We are open until December 31st.

Let us help you with your landscaping projects!
Gardening Tip!
Do you enjoy salad and other greens fresh from the garden? In season, they are fabulous, especially cut-and-come-again greens like leaf lettuces, arugula, mustard, and others. Yet have you seen the price of mixed greens—often called mesclun—at the grocery store lately? For what you would pay for two weeks worth of salad greens for a family of four, you can buy more than enough seed to keep you in salad all fall and well into winter.
Fall Tip
Caring for your lawn shouldn't stop just because it's getting colder out. Continue to mow your lawn while it is actively growing. For your final cut, do a high cut (around 2.5 – 3 inches) which will help prevent disease and set your lawn up for a green success next spring.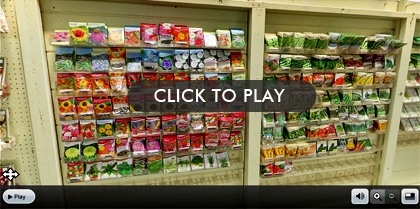 See Our Spring Tour
Eltzroth & Thompson Greenhouses · 1686 Monacan Trail (Rt. 29S) · Charlottesville' Virginia 22903
T – (434) 295-2488 · E – info@eandtgreenhouses.com
Monday — Saturday 8:30 am – 5:30 pm
Sunday 10:30 am – 5:30 pm